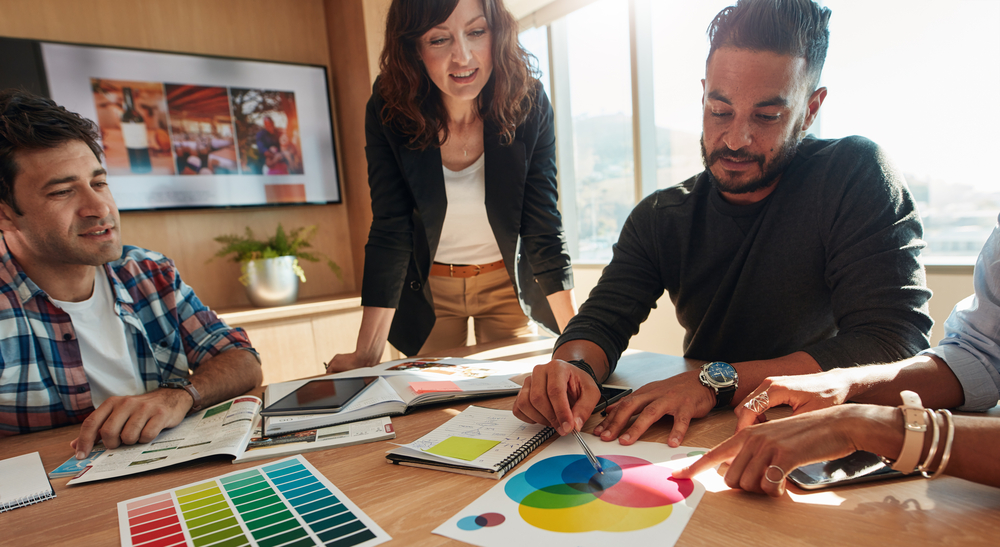 Is your company good for its word? Is it as good as its name? Poor print quality can easily tank a brand's reputation.
Tangible assets made up 95% of most companies' worth before the prevalence of the Information Age before everything went digital. Now, intangible assets make up 75% of a company. Once, all you had to worry about was your print logo, letterhead, business cards, and other advertising materials. However, these printed materials and their print quality are more important than ever to your brand reputation.
Discrepancies in appearance in print quality affect a brand's reputation value. Unique colors in your logo and brand styling set your company apart from others, and any discrepancy can make it disappear altogether. So, consistent colors keep your brand visible and reliable in your customer's eyes.
Brand Styling and Integration to Avoid Poor Print Quality
Brand integration translates across mediums, where your logo, text, typefaces, and design are displayed over print and digital platforms. Understand the differences between Pantone, CMYK, and RGB colors. Knowing where and when they apply are vital to the creative process and marketing. If inconsistencies arise, it can harm the entire campaign and your brand's reputation. There are three types of color designations to consider: Pantone, CMYK, and RGB.
Pantone colors refer to the Pantone Matching System (PMS), which is a color space that uses formulas to mix ink and print spot color. It's the most efficient way to control color as printing is more of an art than an exact science.
Exactly matching CMYK color to Pantone can prove difficult since the colors are mixed. The four colors of cyan, magenta, yellow and black are transparent colors printed as tint dots. They overlap each other to form complex images, such as in newspapers and magazines.
So, how do print colors translate to screen? RGB colors (red, green, and blue) are used to represent the colors of your logo on screen. Of course, monitors must be calibrated to perceive the color at its best. You don't want to send your print vendor a file in RGB.
Inexperienced brands and print vendors may have the odd mix-up where wrong brand colors make it to market. Sloppy print jobs and incorrect brand colors can affect your brand reputation adversely via poor print quality.
Establish Brand Guidelines Early
You should have brand guidelines established for every communication and action that your brand takes. That also includes a set of guidelines for each project you undertake.
You must hire an experienced designer who knows how to keep color consistent across media and platforms. What is the framework for the usage of brand colors in Pantone, CMYK, and RGB? Different formulas also apply for the different kinds of paper you'll use, coated and uncoated.
At first, it sounds like a lot to consider. However, establishing brand guidelines early and keeping color consistent will help your brand attract loyal customers. You avoid poor print quality. It helps your brand break into new markets smoothly when interested parties request your media kit.
Visual Perception Depends on its Environment
As light enters the eye, one perceives it differently depending on its environment. You see red more easily during the day because of the length of the light's rays than at night. It's why fire trucks and stop signs are red in the USA. However, every country and culture also has its thoughts about what various colors mean. Once a brand becomes well-known, its personality stands on its own.
However, the colors used in a campaign beyond your logo may give a negative perception of your brand in a different country. That can happen by accident easily, so doing your research in advance is very important.
In a digital age, humans look at something without really seeing it. Humans scan more, and that increases the importance of context and environment in visual perception. The stakes are higher now when it comes to determining brand colors and how that will communicate your brand's mission and services to its audience.
So, how will your brand be seen and remembered? Poor print quality can easily shred a brand's reputation. Keeping colors consistent with strong brand guidelines and a deeper understanding of your customers ensures your company's viability and future success.