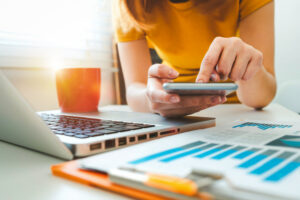 How do you handle brand consistency? So many options exist for marketing. So, how do you know where to begin?
Social media, content, email campaign, and direct mail make up the tip of the marketing iceberg. But you're not looking at what's beneath. No one thing is king in marketing like consistency.
Marketing on multiple channels can increase your exposure to customers. However, it's also confusing and takes more time than it should. You can get higher engagement rates with the omnichannel marketing approach Success comes through better brand consistency, and you do that by integrating your marketing channels.
Better Brand Consistency with Omnichannel Marketing
You cast the widest net that you can to reach potential customers through multichannel marketing. However, managing multiple messages and campaigns across various platforms is tough to manage with little return. The omnichannel approach integrates these channels to engage with each customer as a whole, holistically. This ensures that each customer has a quality, consistent experience every time they connect.
The CMO Council reports that 94% of companies believe that omnichannel marketing is vital to their success. The audience receives the same message across each channel. The sales, social media, customer success, and PR teams all must communicate the message consistently.
Better Brand Consistency with Consistent Messaging
What is your message? Both offline and online marketing efforts must be similar. This allows your customer to get to know your brand well. And they develop trust in your word and services.
Your message is through your brand expression. This includes your company name, language, logo, and colors. Always make sure your designer creates a web-optimized logo. Print and web materials utilize different types of color modes. Your customer will notice the "slight" difference in color.
Link the Virtual Experience with a Live One
Besides, consumers crave investment in experiences. They want to interact with their favorite brands, authentically. With this in mind, cultivate enjoyable, offline marketing events and go live online. Even if a patron can't attend, you can still treat them like VIP. Also, for better brand consistency, conduct a live tour or behind the scenes peek in your social media stories.
Take your new product launch party, semi-annual sale, fundraising event, or seminar online.
Email invitations to area customers via email and advertise to locals on social media.
Livestream the event and offer your audience a reason to watch. Share discounts or rewards to those who viewed. Live-tweet the occasion and post-real-time photos on Facebook and Instagram.
If conducting a webinar, you can utilize that as part of a stand-alone course later. Boost your impact and develop your brand authority.
Integrating Marketing Channels Builds Better Brands
Getting the most out of your reach across platforms can feel like a lot. Also, many brands end up confusing their audience as to which direction they're supposed to go. And evolve leads into loyal customers with better brand consistency and convenience. Without losing quality.
How many times does a customer need to click? Only to end up calling and waiting on the phone for 40 minutes to speak to a real person? Does that build brand loyalty? No.
Omnichannel marketing ensures that your customer has a good experience across platforms. A booking form should work on desktop and mobile. Also, a customer should have access to what they need within the moment. Also, geolocation tools can even send out the location of a chain store when a brand posts new products a customer wants to check out.
It's not about redirecting the customer with several clicks or call referrals. Also, omnichannel strategy removes all the red tape and frustration on the branding side.
So, good customer experiences allow companies to receive and measure powerful data about their customers in a more enlightening and elegant way.
Thus, integrating your channels doesn't have to be hard. So use marketing to keep your message consistent across channels in a good way and build a better brand.