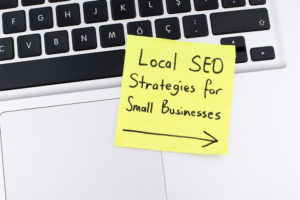 Local SEO is particularly essential for any company serving a local customer base – restaurants, hotels, retail stores, accountants, lawyers, and so on.
But with SEO best practices continually changing, how do you achieve local SEO success? What can you do to ensure visibility in search engine results?
The following 15 steps will help you optimize your site for local search.
1. Build Your Website
This step is sometimes overlooked by modern marketers but is critically important to your local SEO success. You need a website – not a Facebook page or a YouTube channel (although these are also assets you can leverage).
Register a dot-com domain name, purchase hosting, and set up your website, preferably using WordPress and a responsive theme. You will still need to optimize your site later but following these steps will give you a reasonably good shot at doing well with your SEO efforts.
2. Include Your Contact Information on Your Website
Local businesses should always include up-to-date contact information on their website, preferably on every page of their site.
Include your phone number, email address, and street address on your site. This should help your target customers find you online. Additionally, if you don't have your Google My Business listing yet, your visitors can at least copy your address, paste into Google Maps, and figure out how to get to your place of business.
3. Establish Your Social Media Presence
Register your social media accounts, and if possible, use the same username across all platforms. This helps with branding.
Note: It's easy to get carried away with social media, but you shouldn't try to do more than you can do well. Which sites you build a presence on depends on your audience, but here are the most popular options:
Facebook
Twitter
Google+
Instagram
Pinterest
YouTube
Tumblr
Pick two or three to start with, but register with each, in case you end up needing them later.
4. Engage in Keyword Research
Each page on your website consists of content. The success of that content is at least partly contingent on the keywords you use. Use a tool like Ubersuggest to uncover relevant keyword opportunities within your niche or industry. Save all of these keywords in a spreadsheet, as you will likely be referring back to them and using them in your content on an ongoing basis. You can also use these keywords in your advertising efforts.
Also note, if you want to rise above the competition, you may need to go about your keyword research differently than your competitors do. Think outside the box!
5. Analyze Your Competition
No matter what type of business you're running, there is a good chance you have competitors. This is a good thing, however, as it indicates a healthy buying market. Use a tool like SEMrush to see what keywords your competitors are ranking for, what authority sites are linking to theirs, and so on.
6. Register Your Business with Online Directories
Most people aren't using hard copies of the Yellow Pages to find businesses anymore. It's far more convenient for users to pull out their smartphone, go to Google, and type in the service they're looking for than to browse through an entire directory.
So, it's imperative that you register your business with online directories like Google My Business, Yahoo! Local, Bing Places for Business, Yelp, and MapQuest. This also gives your customers the opportunity to review you online, which brings us to the next point.
7. Encourage Your Customers to Review Your Business Online
Once you've registered your business with online directories, your next step is to encourage (and maybe even incentivize) your customers to review your business online.
These days, users often look at reviews to determine whether they want to eat at your restaurant, stay at your hotel, utilize your services, and so on. So, reviews build trust with prospects and serve to establish the legitimacy of your business.
8. Manage Your Online Reputation
Now that you've set up your social media accounts and online listings, it's essential that you keep an eye on what people are saying about your business. Engage with those who engage with you. This shows that you care about what people say and that you're actively monitoring what is being said about your online.
9. Optimize Your Website
Setting up your website is just the first step to local SEO success. It will also be necessary to optimize your website, as search engines love a well-structured site. You'll want to decrease load times, sprinkle your keywords naturally across your key pages, build relevant content, and so on.
10. Ensure Mobile Friendliness
It is imperative today that your website be mobile friendly. When people are out and about and want to find a local business, they're going to pull out their smartphone or tablet to search for it. They're not going to drive all the way home to hop on their desktop. They're not going to look for a phone booth with an up-to-date copy of the Yellow Pages either. They're going to Google it.
Mobile friendliness can also contribute to increased conversions on your website.
11. Build Your Domain Authority
Building your domain authority can be a challenge, but since search engines prioritize sites with a high domain authority, it would be wise to build it up over time.
How do you increase your domain authority? We've covered many of the steps already, but here are some things you can do to build your DA:
Optimize your on-page content.
Add fresh, relevant content to your website on an ongoing basis (more on this later).
Work on your internal linking structure.
Monitor your backlink profile and remove bad links from sources that could harm your domain authority.
Ensure your website is mobile ready.
Build your authority by publishing quality content on your website.
Optimize the loading speed of your website.
Share your content on social media.
12. Build Links to Your Website
Backlinks play a critically important role in your website's credibility and authority. Getting your website listed in online directories can help. You should also look for local suppliers or businesses with whom it would make sense to build a partnership with. Perhaps they offer a complimentary service to yours. Maybe they review companies like yours on their blog. Whatever the case, search engines will see your site as being more credible when other credible courses cite and link to you.
When reaching out to other businesses and individuals, remember to add value to them first. In some cases, you may be cold calling them, and if there's nothing in it for them, they're unlikely to help you.
13. Engage in Content Marketing
Building valuable and relevant industry content is one of the number one ways to achieve local SEO success. When you regularly add new content to your site, it increases your social shares, backlinks, and helps you rank for more keywords too.
Content also helps build trust with your visitors. They may not be ready to buy when they first land on your website, but if they become email subscribers, you can continue to nurture them until they're prepared to buy from you.
The advantages of content marketing are numerous. Understand what they are and how to go about building your business by leveraging content.
14. Advertise
Marketers sometimes view advertising as the opposite of SEO, but they can be complementary marketing tactics, so this isn't necessarily the case. Since you've already done your keyword research, and you know a thing or two about your target customer, utilizing ads is an excellent way to prove the effectiveness of your content and drive more traffic to your website.
Additionally, when you advertise with Google, your result will be one of the first in the search engine results page.
15. Measure, Analyze & Iterate
SEO is a form of online marketing. This means everything you do can be measured, analyzed and improved upon.
Keep in mind that SEO takes time. You may not see your current efforts pay off for six to 12 months. But this is also why it's so critical to measure everything you do. As it has often been said, keep doing what's working, and turn off what isn't. As you continue to engage in SEO activities, you'll begin to determine what to focus your attention on.
Final Thoughts
SEO can be a complicated matter. Even when you feel like you're doing all the right things, you may not see results from your efforts. And, sometimes waiting doesn't do much to better your situation either, even though SEO takes time to work.
It's critical to track your efforts and be aware of what's working. There's no sense in repeating what isn't working, as it is unlikely to produce meaningful results. Tracking is the only way to determine your next steps and ensure you're on the right path.