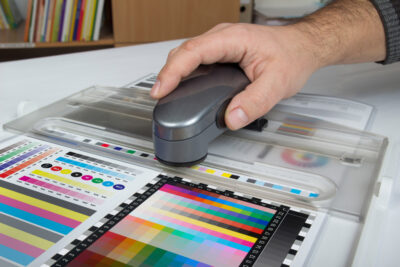 No printer can excel in today's cut-throat printing space without G7 Master Qualification. This is because G7 Master Printer Certification has now become a print benchmark.
More than ever, creative directors now understand the value and the need for high-quality print standards. 
You see, G7 print certification is the new gold standard for printing. Without it, creative directors are courting printing quality headaches and frustration.
Imagine a client spending hours working on a brand's vision, marketing material, and graphics. On the laptop, the campaign looks stellar. Impressive, some of your best work to date.
Then, the day finally arrives to get the presses rolling and the material printed.
Then the unthinkable happens.
The printer does a shoddy job: poor color translation and no color accuracy at all across any of the printer's devices.
It's a nightmare of cataclysmic proportions for everyone involved. Thankfully, this scenario can be avoided when the printer takes the initiative to obtain G7 experience by getting certified.
At this moment, you might very well be asking: And just what is G7? What is the meaning of G7 Master Qualification?
We're glad you asked.
What is the meaning of G7?
According to Idealliance.org, the company behind this innovative printing system, G7, stands for grayscale plus seven colors.
Furthermore, the organization describes its G7 system as a "set of specifications for achieving visual similarity across all print processes."
What this means is that printers that have undergone the G7 training and calibrated their equipment accordingly guarantee the same print quality across various devices time and time again. Put another way, what you see on your screen is exactly what you'll get when you print from a facility with G7 experience.
Therefore, G7 is all about precision printing and color accuracy.
It sounds like a dream for both creative directors and printers. So, how can printers go about getting G7 experience and certification?
How does a printer become G7 Master qualified?
Firstly, it is worth noting that G7 Master Qualification can be awarded to other entities apart from printers, such as pre-media providers and creative agencies.
Secondly, G7 certification status comes after the facility and select staff have successfully passed through a series of rigorous testing, training, and auditing.
Another point that needs to be mentioned is that this qualification is not valid for life – it needs to be renewed annually. This strictness assures creative directors that printing facilities with said G7 experience and certification are invested in staying up-to-date with the leading industry printing standards.
This brings us to the topic at hand: why having G7 experience is beneficial for facilities.
Top 4 reasons to have G7 experience in your facility
There can be no doubt that having G7 experience enables your facility to distinguish itself from the competition, charge competitive rates, and be associated with excellence in industry circles. Let's explore in greater depth why you should pursue G7 Master Qualification if you're still on the fence about the matter.
1.
Stand out within your local community
There are at least 35,000 commercial printing companies within the United States, each vying for a piece of the lucrative 90 billion dollars annual revenue. The printing industry is unique in that a handful of companies doesn't dominate the sector. In fact, the top 50 companies hold approximately only 30% of the market.
This means there is a large part of the market accessible to small-and-medium-sized facilities. With the right strategies, a smaller printing facility can really make a name for itself.
One of the best ways to distinguish itself within its own local area is by having G7 experience and certification.
2.
Bid for Fortune 500 printing contracts
Do you dream of working with some of the largest companies in the country? Say Fortune 500 enterprises?
Well, it's not completely out of reach.
You see, a great number of them now request G7 certification from potential print facility partners. They do this in a bid to maintain consistency for all their print materials.
G7 experience can therefore open doors and allow you to bid for bigger projects. So, don't allow yourself to be overlooked simply because you lack a qualification that you can easily obtain.
3.
Print with greater turn-around times
According to a recent study, the two major challenges facing creative teams are speed and demand for creative work.
Commenting on these findings, the executive creative director at Adobe Adam Morgan highlighted that certainly creative teams are often "pushed too hard on speed and volume."
What does this mean for G7 certified and experienced facilities? Owing to the rigors of G7 methodology, creative directors can rely on faster, more accurate matches, in a nutshell, specific printing with shorter turn-around times.
4. Demonstrates commitment to high print standards
How can creative directors or those wishing to use your facility's printing services know for sure that your printers meet the latest printing specifications?
How can you show them without bringing out all the paperwork that you do indeed satisfy GRACoL (General Requirements for Applications in Commercial Offset Lithography) proof and print standards?
Why by simply telling them that you are a facility with a G7 Master Qualification and relevant experience, of course!
The G7 Qualification speaks for itself and is synonymous with high print standards, strict compliance requirements, and rigorous print structures.
Conclusion
Enjoy the many benefits associated with a G7 Master Qualification. Have your facility in the top-tier of preferred printers.
When creative directors need high-quality print, true color-accurate work, and excellence in print services, you will come to mind.
If you would like to learn more about getting your facility G7 certified, be sure to read our previous blog, How G7 Training Works At Your Printing Facility.