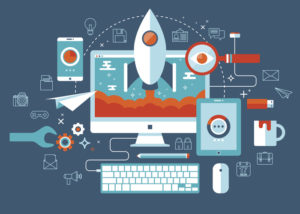 What is Marketing Automation?
Marketing automation is the use of software and Web-based services to execute, manage and automate marketing tasks and processes. It replaces manual and repetitive marketing processes with purpose-built software and applications geared toward performance.
What Does it Do?
Marketing automation connects multiple touch points and marketing channels including social media, email marketing, and content marketing. One of the core goals of marketing automation is to nurture prospects for the long-term, which mean focusing on goals beyond direct sales.
Marketing automation makes it easier to send personalized, 1:1 targeted messages. In other words, it makes communication stronger. When you automate your marketing, you can focus more heavily on the quality of your campaigns and messaging. Marketing automation gives your team the ability to add more personal touches to your campaign – by collecting data on a prospect's interests and goals, you can customize future offers so that they are more relevant.
It's Much More Than Sending Email
You can improve every aspect of digital marketing through testing, segmentation, lead scoring and analysis:
Add dynamic content based on an individual's specific user profile. For instance, you can send targeted offers based on website patterns.
Categorize customers and prospects by common behaviors, interests, and demographic details. These will be dimensions for segmenting your customers.
Develop optimal marketing patterns. Marketing automation can help your company test different variables like email send times, subject headings, and ideas for personalization.
Integrate marketing channels to deliver a comprehensive, cross-platform user experience. Make sure that every touch point is carefully planned for optimal conversion optimization.