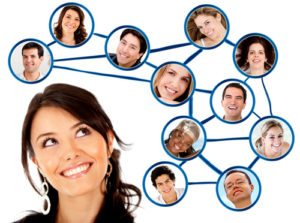 You probably have an account on LinkedIn. Most people in business do. The question is: Are you using LinkedIn to its fullest potential? If you're still on the fence about using LinkedIn to grow your business, here are a few things to consider.
LinkedIn is the largest professional network, with over 500 million users in over 200 countries. That's about 25% of adults that use the Internet. It's the most commonly used social network for adults ages 30-49 years old. And about 46% of adults with a college education use LinkedIn.
If your job requires you to connect with other professionals, then LinkedIn offers a tremendous opportunity. LinkedIn drives more B2B leads than any social network.
With LinkedIn, you can:
Build sales relationships
Form partnerships
Become a sought-after thought leader
On LinkedIn, you're not just connecting with and engaging brands and random people looking at ads. You're connecting with real people. You're building trust with those people. And these individuals are highly targeted as your potential customers. The challenge with LinkedIn is having the time to build connections, earn trust to sell your product or service. That's where our LinkedIn Marketing service can help.
Think you're ready? Here are the details.
Setup
What we do for you:
Profile Optimization
Identify Target Audience
Identify Industry Groups
Profile Optimization
Does your profile sell yourself and your business? From our experience, most profiles are lacking. There's a lack of focus and lack of purpose. That's why our first step is to optimize your profile. The goal is to have an attractive profile that provides essential information for new connections. The goal is for connections to discover who you are and what you have to offer them regarding products or services.
Your profile optimization may include adjustments to:
Name & Headline
Current Position
Education
Industry
Summary
Media
Experience
Accomplishments
Awards & Honors
Projects
Sound good so far? Let's keep going.
Identify Target Audience
Usually, the target audience is your target customer. It could be an audience you're looking to reach as a thought leader. Whatever the case, we go to work. We look at the information you have on your target audience. If you have a detailed profile, we can work with it, but it's okay if you don't. We can research and create one.
Identify Industry Groups
While we're researching your business, customers, and industry, we come across key industry groups on LinkedIn that you can join. Joining groups and participating in those groups is an excellent strategy if you're looking to build your profile amongst your target customers and also amongst peers in your industry.
Once the profile is set, the work continues.
Ongoing Monthly Campaign
We're going to provide:
Connections
Direct Messaging Drip Campaigns
Content Creation
Group Participation
Connections
Who's to say what a good number of connections are? You might have fewer than 100 connections. Maybe you have 500. We're going to take your connections to another level. And it's not just about getting a certain number of connections. We get you highly-targeted connections. The people you want as part of your network and audience. We do this every month. Always working to connect you with future customers.
Direct Messaging Drip Campaigns
Connections are vital, but that's just the first step. We don't want just to connect and forget. Customers buy from businesses, but they buy from people representing those companies. LinkedIn provides a great platform to allow you to build relationships with your connections. It doesn't make much sense, but the reality is that many professionals overlook this aspect of LinkedIn.
For you, we create direct messaging drip campaigns. We ask questions, share content, and share information about you. It's just like in real life. We work on getting to know connections on a more personal level. Over time, we build the relationship to the point of closing a sale or passing the lead off to you so that you can close the sale.
Imagine the traditional salesperson going through their Rolodex every day keeping in touch with prospects. That's what we're doing, but we're doing it on LinkedIn using the direct messaging feature.
What else is included? Keep reading.
Content Creation
Content creation? On LinkedIn? That's right, and it's not just for making connections. LinkedIn provides a free content platform. Regular publishing of content allows you to engage your audience, capture their attention, provide value, and gain their trust.
You receive a regular schedule of content that's published on your LinkedIn profile for all your connections to see and engage with.
Group Participation
As part of the Profile Optimization, we identify industry groups that you can join. If you do decide to join those groups, it's best to be an active participant. This includes answering questions that others in the group are asking. It also includes asking questions of others. It's a brand-building activity to connect with more people in the industry while providing value to them and earning their trust.
If you don't have the time to ask and answer questions in groups, we can provide the service for you as an add-on service.