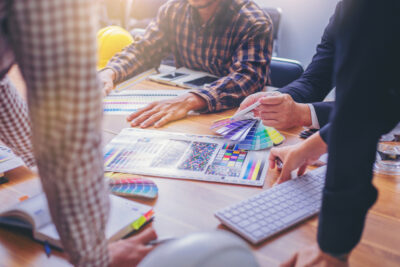 Color management could be best described as determining the color characteristics for devices in the imaging chain. It is a critical issue when it comes to maintaining a brand identity. Color evokes initial opinions and associations in the eyes of consumers and stakeholders at large. It always happens behind the scenes, but once companies run into problems and inconsistencies in print, the importance only becomes more highlighted. As a result, companies discover color management as a solution for many challenges.
Color management does not always guarantee identical reproduction in the imaging chain. However, it gives brands a tremendous amount of control over changes that might occur in the chain. An example of a chain would be from the camera to the editing suite, and finally, print. When done correctly, tuning printers as part of color management can optimize ink consumption significantly.
Why Profiles and References Matter
Color reproduction is sometimes inconsistent because one 'color number' may not necessarily result in the same color across all devices. While screens, scanners, and cameras use RGB color, printers use different standards, such as CMYK inks. Therefore, what you see on screen or camera may not always match what's printed on paper.
This often happens when you use different suppliers and machines to print other pieces of communication. Therefore, it is important to sit and decide on the right set of instructions to give to the different print service providers you decide to rely on.
Consistency is important for brand equity. You never want two identical products from the same company to look like they were packaged differently due to color inconsistencies. Companies discover color management and learn more about what is all involved in the process.
GMI Certification
Companies are now aware of various certifications and standards in print. The print industry uses several ways to try and standardize companies providing print services across the world. One such certification is called GMI. This is a certificate to show that a print facility can deliver on a particular job.
The Graphic Measures International certifies, monitors, and measures the performance of packaging service suppliers. By working with GMI certified suppliers, brands can evaluate the quality of a print job more confidently.
Other quality standards include the G7 Master Quality Definition from Ideallance. The certification shows that a facility has calibrated its equipment to G7 standards.
A single error or inconsistency when printing large volumes can cost a company millions. Hence the justification for working with GMI certified suppliers.
Discovering Color Management
Companies that were not paying close attention to color management in the past are now becoming keen. In the age of social media and digital advertising, companies today need to ensure consistency in the brand colors in all pieces of communication, including memos and flyers. Community managers on social media need to work hand in hand with graphic designers to avoid any mishaps.
Emergence of Color Management Modules
The increase in the number of color management modules in the industry has contributed to the discovery of color management by brands. These are algorithms to adjust numerical values on different imaging chain devices so that what people perceive remains consistent. A few color management modules in the market include ColorSync, Adobe CMM, and Little CMS. Adobe Color Management Module and many other CMMs use International Color Consortium (CMM) color profiles.
Get Help with Color Management
When you discover color management, it can be overwhelming. If your company needs help with color management in your packaging and communications printing, Mann & Co Inc. can help you build accuracy and consistency. With 65% of all purchase decisions involving color, you really want to get it right.
Mann & Co helps brands and agencies achieve color repeatability across various substrates and different printing technologies. For more information, please check out our.