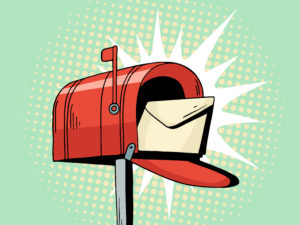 Just because you are deciding to run a direct mail campaign doesn't mean that the prospect has to stay offline.
There are many ways you can entice your prospects to make the move from offline to online. All that is required is that you have an intriguing message and a clear call-to-action.
So what are some good direct mail options to drive more people to your website?
Here are a few suggestions for your next campaign:
1. Include an Easy URL for Your Website
This is the easiest and most obvious way to direct people to your website from your direct mail piece.
Don't use a too complicated URL, instead, try a short one that is to type in.
Your URL should:
Be as short as possible
Make sense
Be easily readable on the direct mail piece
This will never completely eliminate the chance that someone mistypes your website address. So, you could use several addresses that could be typed in accidentally (i.e. marketing.com, marketing.info, marketing.biz, etc.) that point to the real address as a way to maximize traffic. However, this can be  expensive if you don't already own those domains.
You can use free URL shorteners to help make things easier. Here are a few options:
2. Include a Specific Offer
If you want to make your direct mail campaign very effective, then include an offer that is specific to that campaign, which can only be redeemed by visiting your website. This might include a discount (for purchasing on the website), or a free gift (when they purchase on the website). Another offer you can use is a free download. Examples include checklists, white papers, ebooks, etc.
3. Limited the Offer Time
Urgency is a powerful marketing tool. With any direct marketing campaign, ensure that you have a time limit. The shorter the time limit, the more effective it can be.
Set the limit so there are at least two weeks between sending the direct mail and the deadline. Research has shown that recipients tend to keep direct mail for about two weeks before discarding it.
A good call-to-action for direct mail offers is to say that they can make sure they get access before the offer runs out by going to your website to signup, purchase, or whatever your call-to-action it is.
4. Use Email Signups
A great call-to-action for direct mail campaigns aimed at increasing website traffic is the email signup. Pick the email call-to-action that works best for your situation:
Monthly email newsletter to receive exclusive offers, company news & industry trends.
Email program where subscribers are the first to get new product information and offers.
Receive email correspondence instead of direct mail correspondence.
Free email series with great tips and lessons to improve your business.
There are a number of other offers and variations, but many times you can entice people to signup for your email lists and from there, you can continue attracting them to your website.
5. Promote an Event
This one may not apply to your business, but if you get creative, it can work really well.
An event, like a charity 5k or something like that, often will send postcards, or similar mail pieces that ask people to visit the website for more details and to register.
Your business can host events that your clients or prospects may be interested in, such as:
Webinars
Livestream presentations
Social media chats
Facebook Live discussions
And more…
Conclusion
Direct mail can be an effective marketing tool and should attract prospects to your website. You just need to make sure that you have the proper strategy to accomplish this.
Give us your feedback:
Have you driven prospects to your website from direct mail campaigns?
What kind of success have you had?