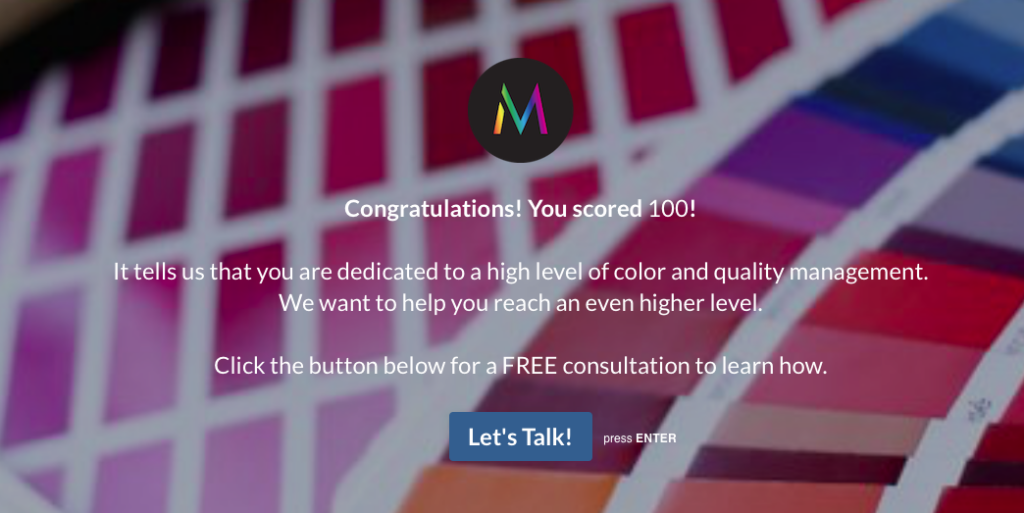 The print service provider market is intensely competitive. With such a competitive market, it pays to take advantage of every insight available. Insights from our PSP Color Quiz can help your company combat and outperform the competition. One of the easiest and most effective ways to beat the competition is to accumulate actionable information that will help you stay not one, but two steps ahead of your competitors. Here's why you should take the quiz:
What to Expect in the Quiz
When taking this quiz, you will see a series of questions that will help you identify areas for improvement as a print service provider. By improving on those key areas, your business will be in much better shape and have the vantage ground to compete more effectively.
For example, you will see if you are happy with your current production process. You'll also learn about how capable your team is when it comes to color quality management. Afterward, you will see a list of items that are measured in your production process.
Another area you'll see, as a print service provider, is if your proofing and production images are visually consistent across different substrates and equipment. You will also be asked are your company is a G7 Master Qualified Facility.
What the Quiz Can Do for a Print Service Provider
By taking the quiz, you will be taking a big step forward in making your production process much more productive, efficient, and competitive. The quiz will identify your current strengths and weaknesses by generating a score for your consideration.
The next step is to discuss your results with a free consultation. The consultation will address how to eliminate your weaknesses and further develop your strengths.
In today's market, you simply can't afford to fall behind. If you do, it's even harder to get ahead. Taking the quiz is the first step towards success. Once you have had your consultation, you will be armed with actionable information. That information will help you make decisions that will launch you ahead of your competitors.
Not only will taking the quiz and having a consultation help you outperform competitors, but it will also help ensure that the competition stays where they belong, lagging behind.