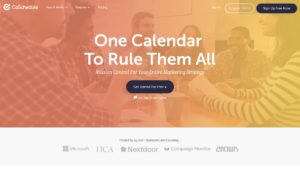 The challenge of digital marketing is that it can be hard to stay organized, especially when there are a lot of moving pieces and channels to oversee.
CoSchedule is a comprehensive digital marketing management tool. It's a collaborative calendar environment for your team where you can plan and coordinate your social media, content marketing, email marketing, and more.
If you're trying to manage all your marketing activities with a spreadsheet, or communication seems to get lost in a mountain of emails, you need to streamline your marketing efforts. That's where CoSchedule comes in.Continue Reading..